The GoPro Hero 9 Black is about to drift around the bend and bring some much-needed action to our pandemic-hit lives, at least according to the latest rumors.
GoPro has released a new flagship action camera every September or October for the last decade, so a new model is certainly due. And a couple of recent leaks appear to back up rumors that a Hero 8 Black successor will indeed launch very soon.
So what exactly can we expect from a Hero 9 Black and what new features could it bring to regain the top spot in our best action cameras guide? Recent GoPro flagships have seemingly squeezed every last drop of performance out of the classic form factor, but there are still some notable omissions that could make the new model a worthy upgrade.
One of these is a front-facing screen for vloggers, a handy addition that was delivered by the DJI Osmo Action. And according to the latest rumors, that is one upgrade that will be coming to the GoPro Hero 9 Black. 
A new screen is far from the only rumored addition, though, so here's a full round-up of all the Hero 9 Black rumors we've seen so far – plus our thoughts on what we'd like to see from GoPro's next flagship action camera…
GoPro Hero 9 Black release date and price
There haven't yet been any leaks about the GoPro Hero 9 Black's release date or price, but we can make some educated guesses based on its previous launches.
The Hero 8 Black arrived on 1 October 2019, which is a little later than previous launches like the Hero 7 Black (which launched on 20 September 2018). Given the growing number of leaks for GoPro's new flagship lately, it's likely gearing up for an official reveal somewhere in the second half of September.
How much is the Hero 9 Black likely to cost? GoPro has been pretty consistent with the pricing for its flagships, with the Hero 8 Black arriving for $399.99/£379.99/AU$598 when it launched last year. We'd expect its successor to cost some in that ballpark.
Perhaps more interesting will be what happens to the prices of GoPro's current action camera lineup. You can currently buy the Hero 8 Black for $349.99 / $329 / AU$679.95, and the Hero 7 Black for as little as $249.99 / £249.99 / AU$529.95. 
If both of those cameras get further price drops, and remain on sale, they could well be serious bargains for those who don't need the flagship dazzle offered by the incoming Hero 9 Black.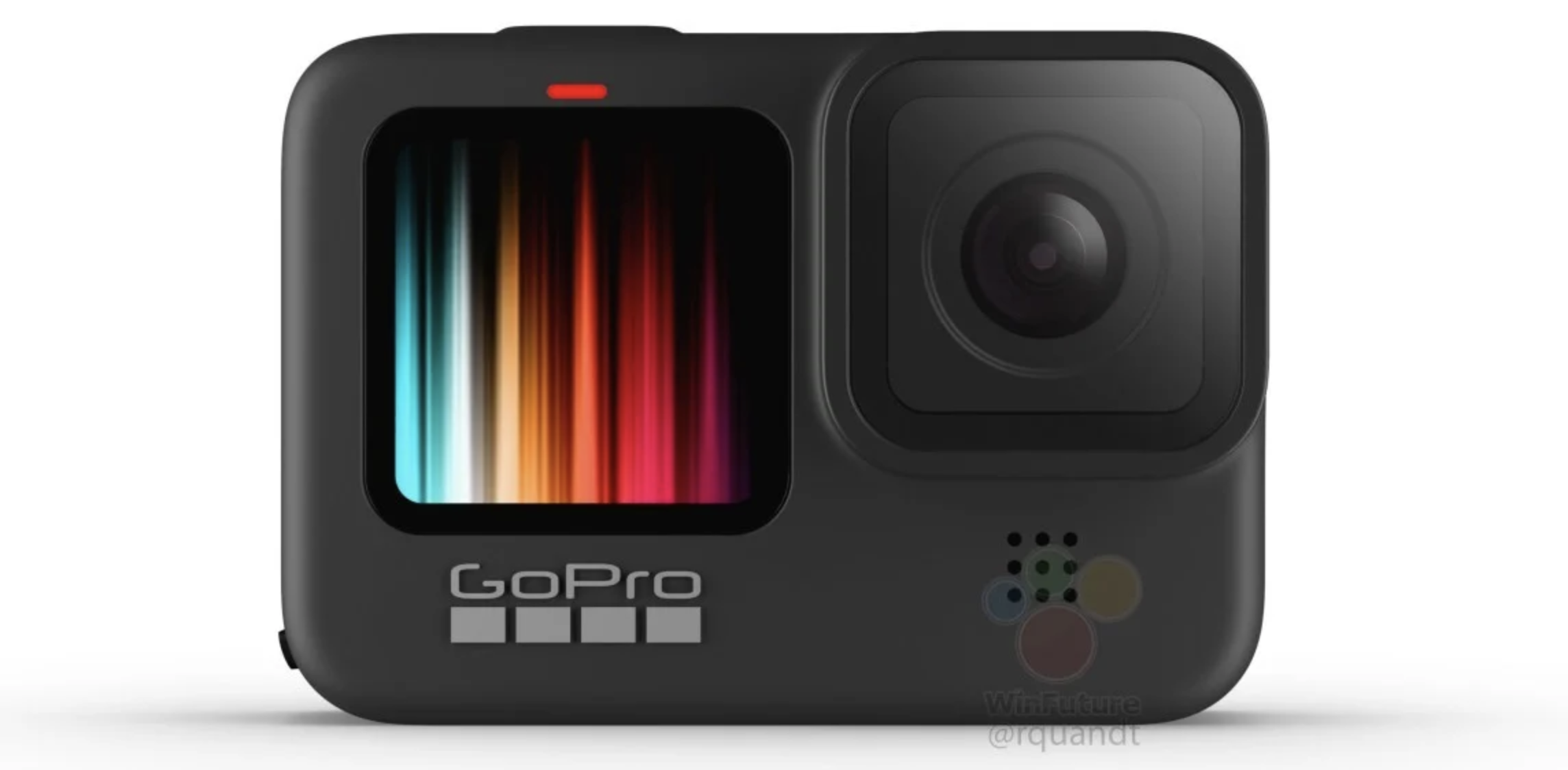 GoPro Hero 9 Black specs and features
So far, there have been a couple of significant Hero 9 Black leaks – one that suggests it could have a front-facing screen for vlogging (like the DJI Osmo Action), and another that reveals some possible packaging that hints at many of its key specs.
On 1 September, German publication Winfuture revealed what it claims to be the first official product images of the Hero 9 Black, with a few of them showing a new color display on the front.
This backs up the first Hero 9 Black leak we saw on Reddit back in July (below). While that rumor arrived from a source with no previous track record, its depiction of a GoPro with a new front-facing display does match those potentially leaked press images.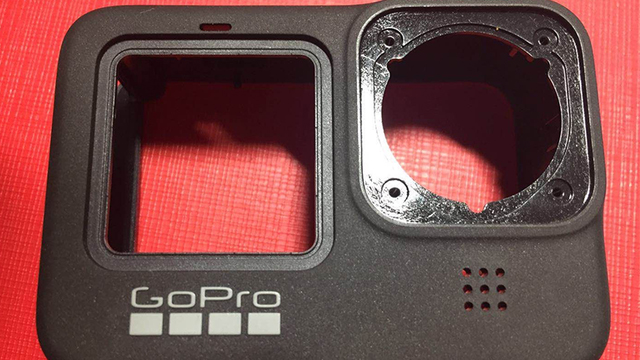 What those press images appear to confirm is that the new front screen will be a color panel, rather than simply a larger version of GoPro's traditional monochrome display. 
This means it could be used for video previews in a similar way to the DJI Osmo Action, which is potentially good news for anyone looking for a waterproof vlogging camera. But we'll likely have to wait for the full reveal to find out for sure.
The bigger GoPro Hero 9 Black leak is probably the recent arrival of what looks like the action camera's new packaging. Again courtesy of Winfuture , the image (below) reveals what could possibly be the flagship's new specs.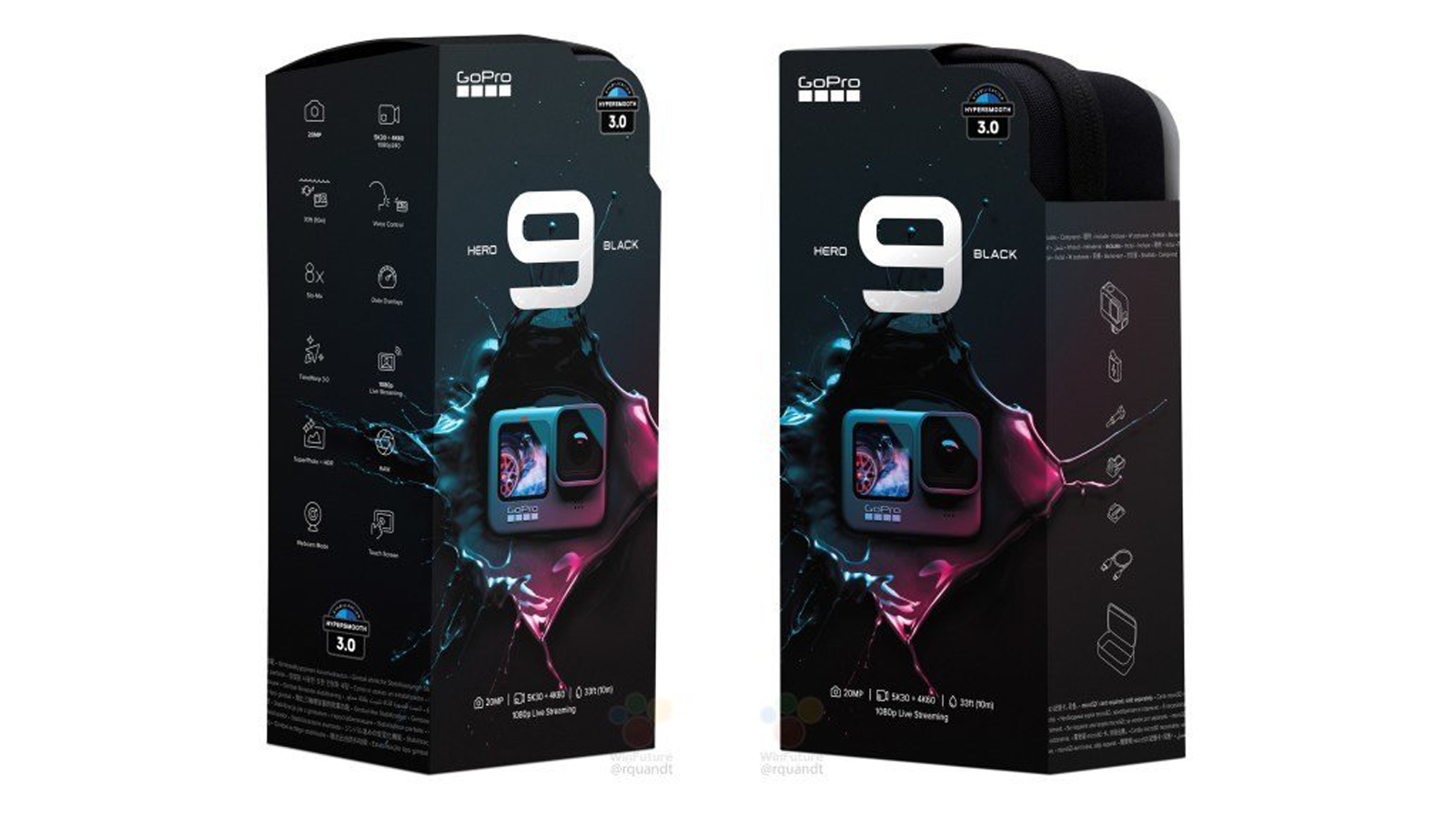 According to the image, the Hero 9 Black will bring a new 20MP sensor (a big jump from the traditional 12MP sensor) and a much larger battery.
The resolution boost has apparently been included to help support 5K/30p video shooting, although it's not yet clear if the sensor itself is the same size as the one seen in previous models like the Hero 8 Black.
Still, that new battery will apparently be much larger than the one seen in existing GoPros – with a 1,720mAh capacity, it'd be around 40% bigger than the one in its predecessor. 
Of course, this doesn't necessarily mean an equivalent boost in battery life – if the Hero 9 Black does indeed have a new front-facing screen, that will need demand some extra juice. And it'd also likely mean that existing batteries wouldn't be compatible. But a boost to the Hero 8 Black's 70-minute stamina (when shooting 4K) would certainly be welcome.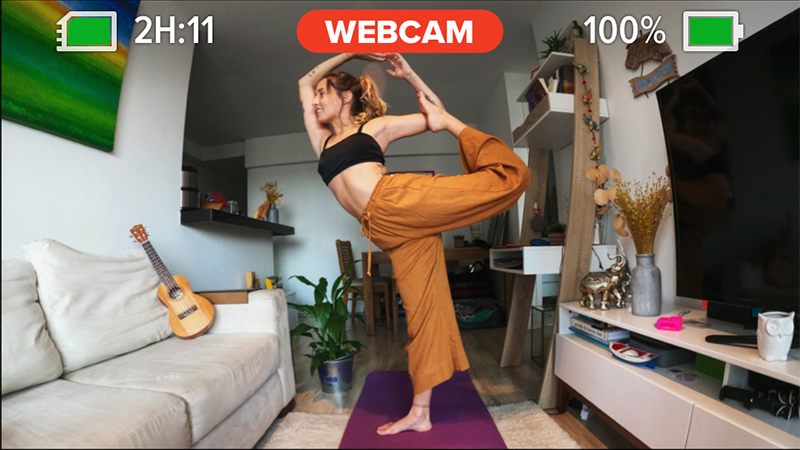 What else can we expect from the Hero 9 Black? According to the leaked packaging image, other likely improvements include HyperSmooth 3.0 image stabilization (which could potentially draw on GoPro's recent acquisition of ReelSteady) and TimeWarp 3.0, which is presumably an improved version of the smooth, moving timelapses we've seen in previous generations.
Another very likely addition, based on the WinFuture leak and GoPro's recent software releases, is webcam functionality and livestreaming powers. GoPro recently brought webcam software to the Hero 8 Black, so it seems highly likely to do the same for its new flagship, and we can apparently expect Full HD livestreaming powers, too.     
All this speculation suggests that the rumored Hero 9 Black is shaping up to be its most versatile action camera yet, which it needs to be during a time when most of us have significantly cut down on travel and are leading less action-packed lives than usual. There will no doubt be many other new features too, so make sure to keep this page bookmarked for the latest leaks and news on GoPro's next flagship.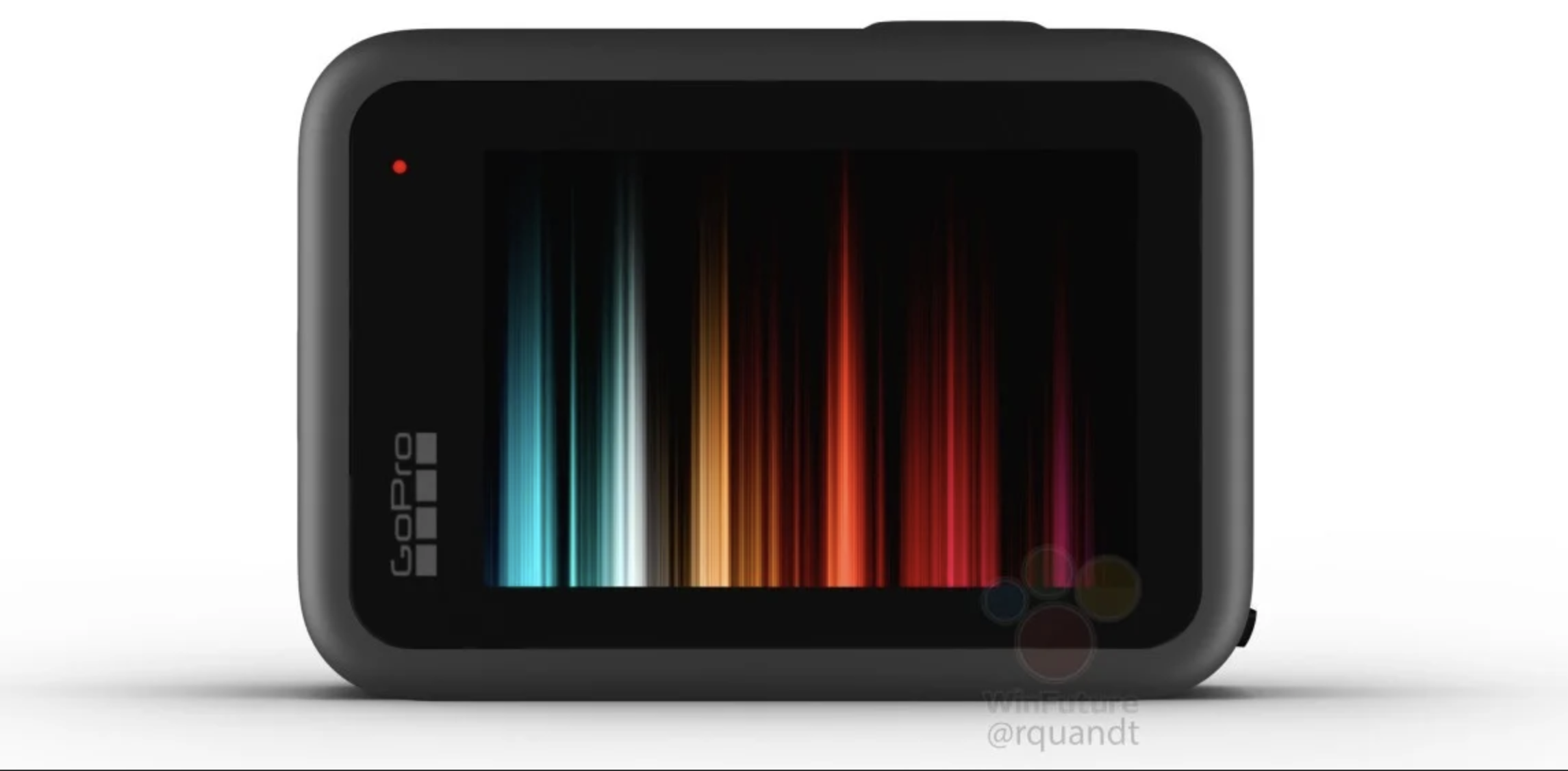 GoPro Hero 9 Black: 9 new features we want to see
1. A 4K slo-mo mode
The GoPro Hero 8 Black did not get any new, top-billing capture modes – so it's time for a step up. 
Shooting 4K at 120fps is the obvious next move. A GoPro is a better-suited for a focus on high frame-rate modes than any phone or mirrorless camera, because action is its natural environment. 
Such a high 4K frame rate is also possible even if the GoPro Hero 9 Black keeps the same camera sensor as the Hero 8 Black. Its Sony IMX277 is already capable of 119.88fps readout at 3840 x 2160 resolution, according to Sony's specs.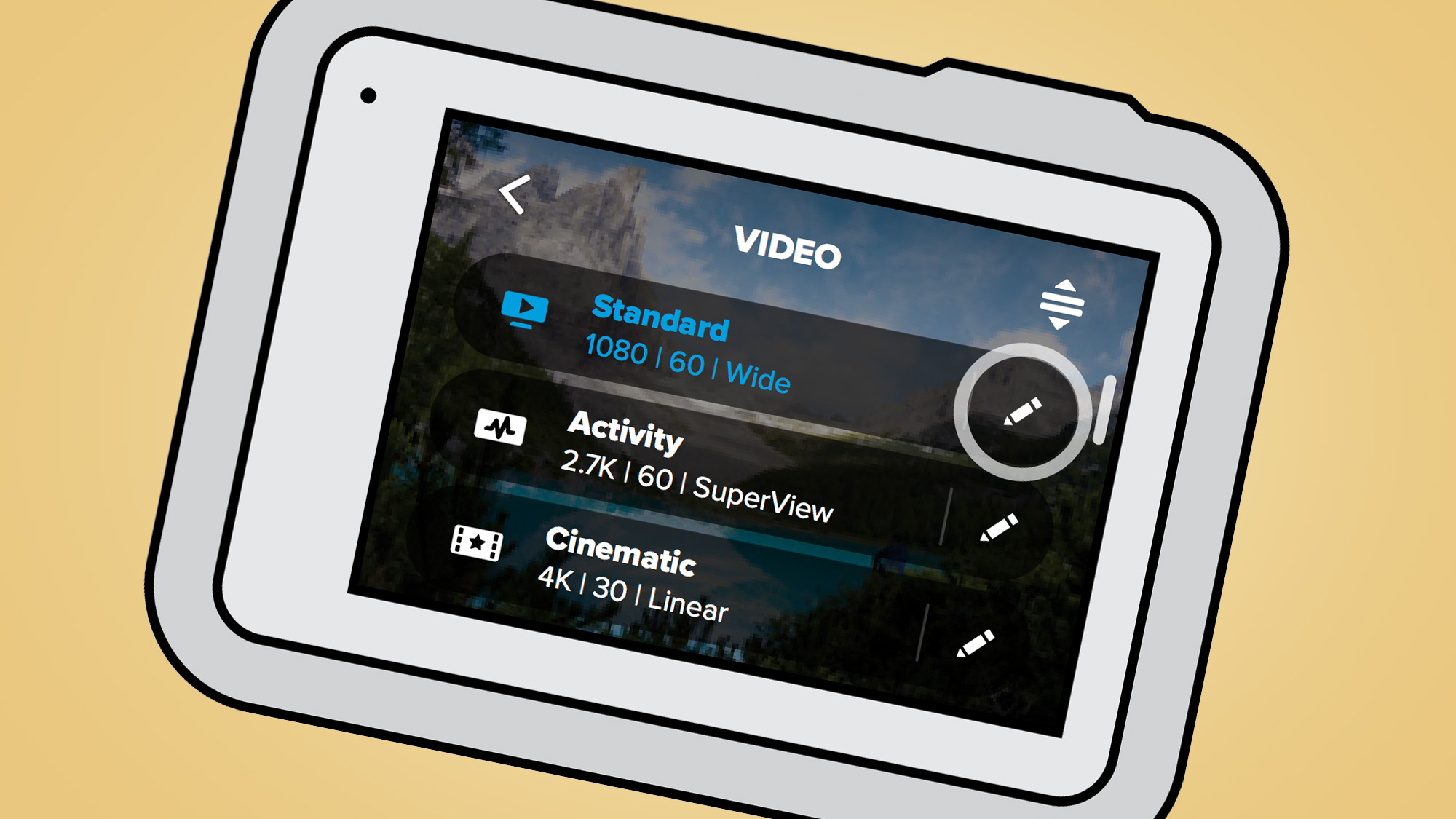 Of course, 120 frames per second in 4K will likely only be of use in good lighting. High frame-rates necessitate fast shutter speeds, so the GoPro Hero 9 Black will have to increase its ISO sensitivity more than it would when shooting at, for example, 30fps. 
We see the same effect today when using the 120fps and 240fps modes of the Hero 8 Black at 1080p. But it's still a mode we'd love to see in the Hero 9 Black for shooting on sunny days.
2. A new CMOS sensor
The best way for GoPro to improve the Hero 9 Black's native low-light sensitivity is to use a larger sensor. All Black-series GoPros to date have 1/2.3-inch sensors. They are small – in fact, even smaller than those of the best camera phones. 
But is there room for something larger? Many have waited for a GoPro with a 1-inch sensor ever since the Sony RX0 arrived in 2017, and proved you could fit such a chip in a small action camera. 
However, we don't think the Hero 9 Black will have one. It would mean a dramatically higher price,  and involve a drastic redesign of the camera's internal layout. 
This does not mean GoPro will use the same 12MP Sony IMX277 as all top-end GoPros since 2017's Hero 6 Black. There are other options.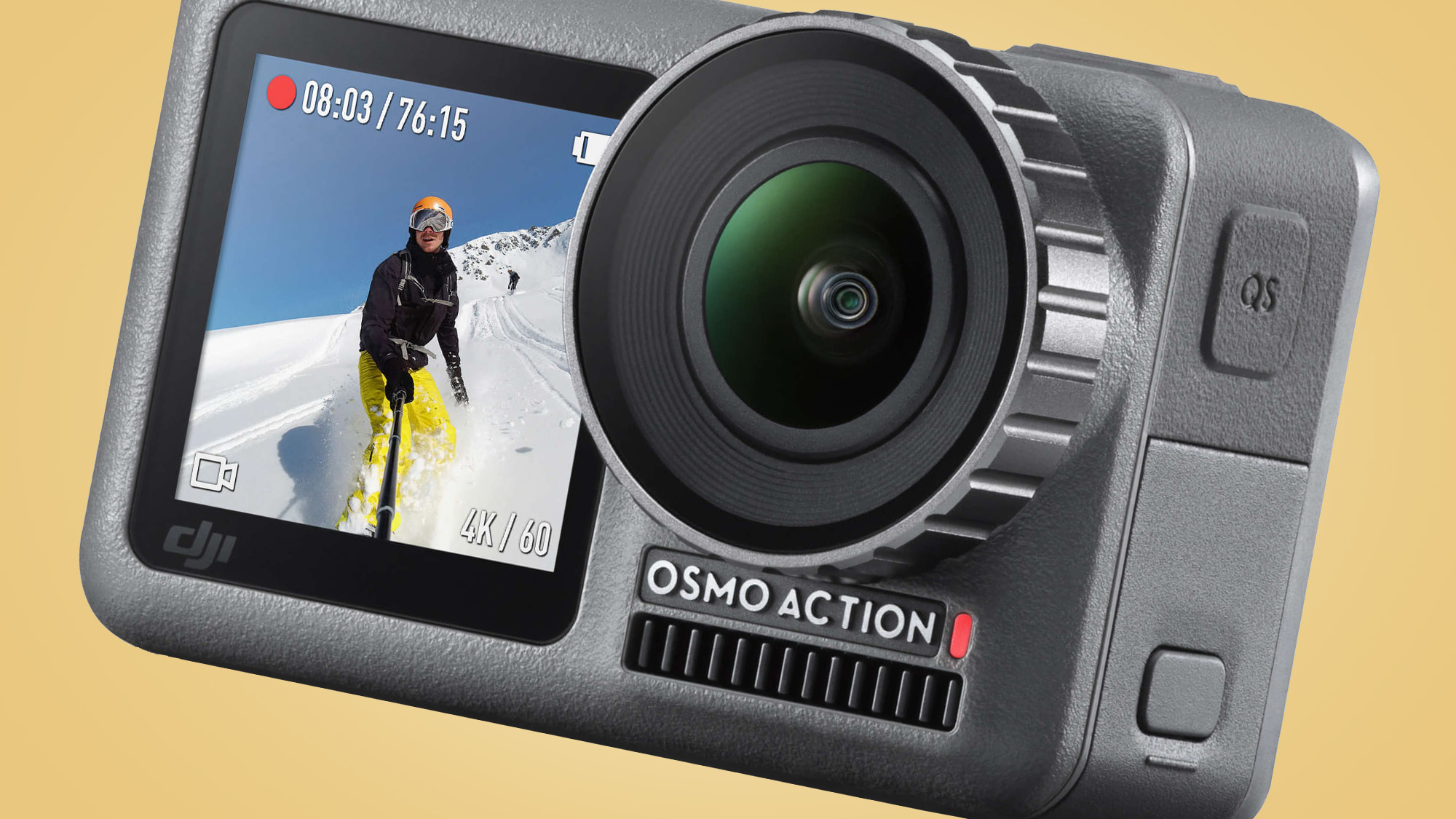 The DJI Osmo Action (above) uses the Sony IMX377. Mokacam's crowdfunded Alpha3 uses the Sony IMX577. 
There's a newer option too, the Sony IMX677, whose specs were published in 2019. This is the same size as the current GoPro's sensor, 1/2.3-inch, but has a higher resolution of 23MP. 
Higher resolution is good news for stills, and potentially for sharper-looking footage at the more tightly cropped fields of view GoPro offers. Low-light shooting is a potential headache, but the IMX677 supports pixel binning, which could solve this issue with the right implementation. 
The Sony IMX277 has served GoPro very well. And the amount GoPro has squeezed out of it is incredible, but surely it's time to move on given this sensor is almost four years old.
3. Speedier operation
If the Hero 9 Black is to get real slo-mo 4K video and a potentially higher resolution sensor, it also needs a faster processor with a beefier image signal processor (ISP). 
It's about time for a change here too, as GoPro's cameras have used the GP1 CPU since the GoPro Hero 6 Black. We expect it to be called, no surprise here, GP2.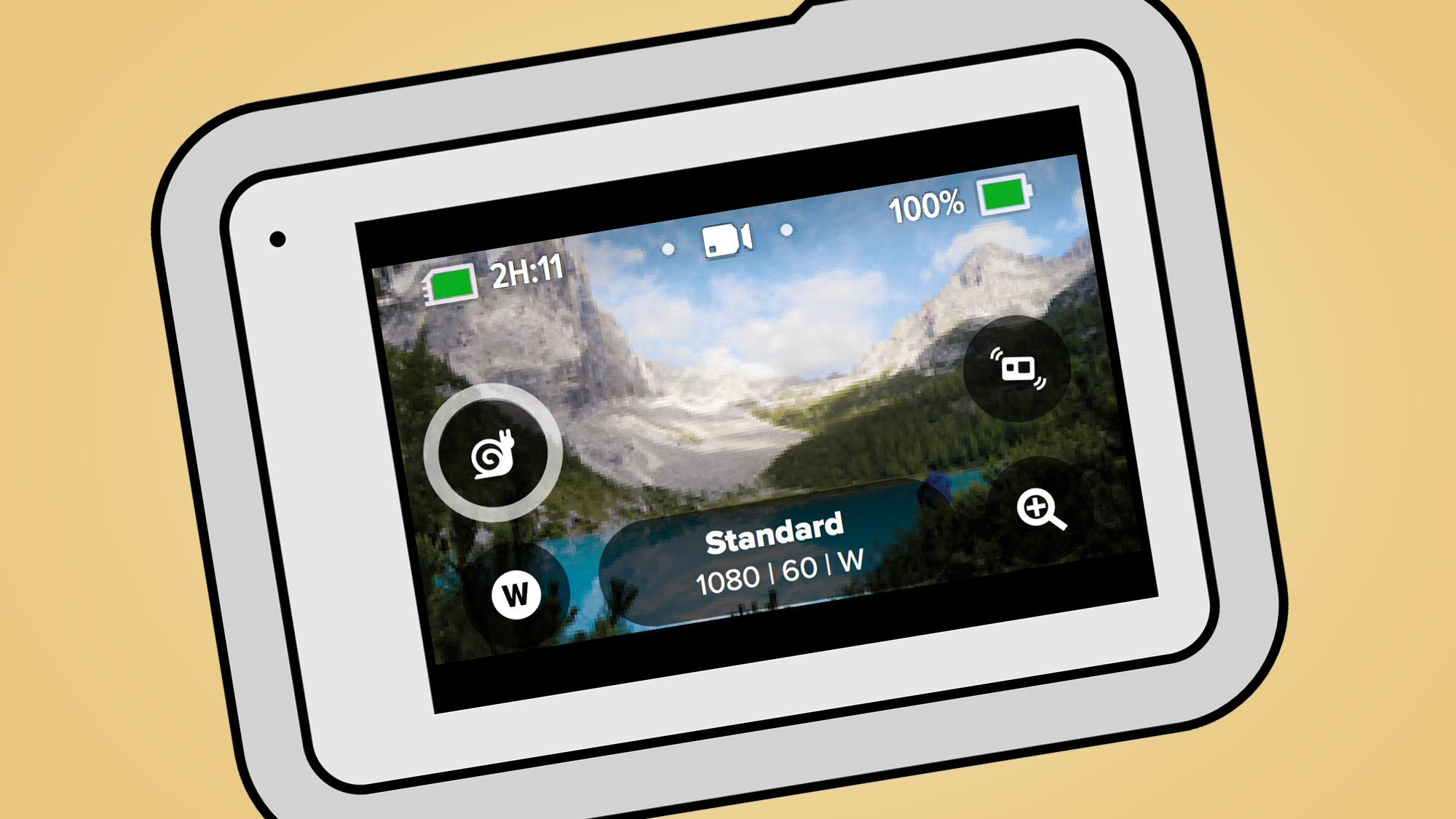 Enabling more advanced capture modes may be its main job, but we would also like to see much faster boot-up and a more responsive menu system. 
The ideal would be a GoPro that feels as quick and instant to use as the phone in your pocket. And also only needs to fully turn itself off when manually shut down or left unused for an extended period. 
4. A larger, edge-to-edge screen
There is a clear improvement to be made to the GoPro Hero 8 Black's rear screen. It has thick borders, and was shown up last year by the DJI Osmo Action. 
The latest GoPro has a 2-inch, 480×320 pixel display, the DJI a 2.25-inch 640×360 one. A larger, sharper screen would make the menu system easier to navigate, and be a better composition tool.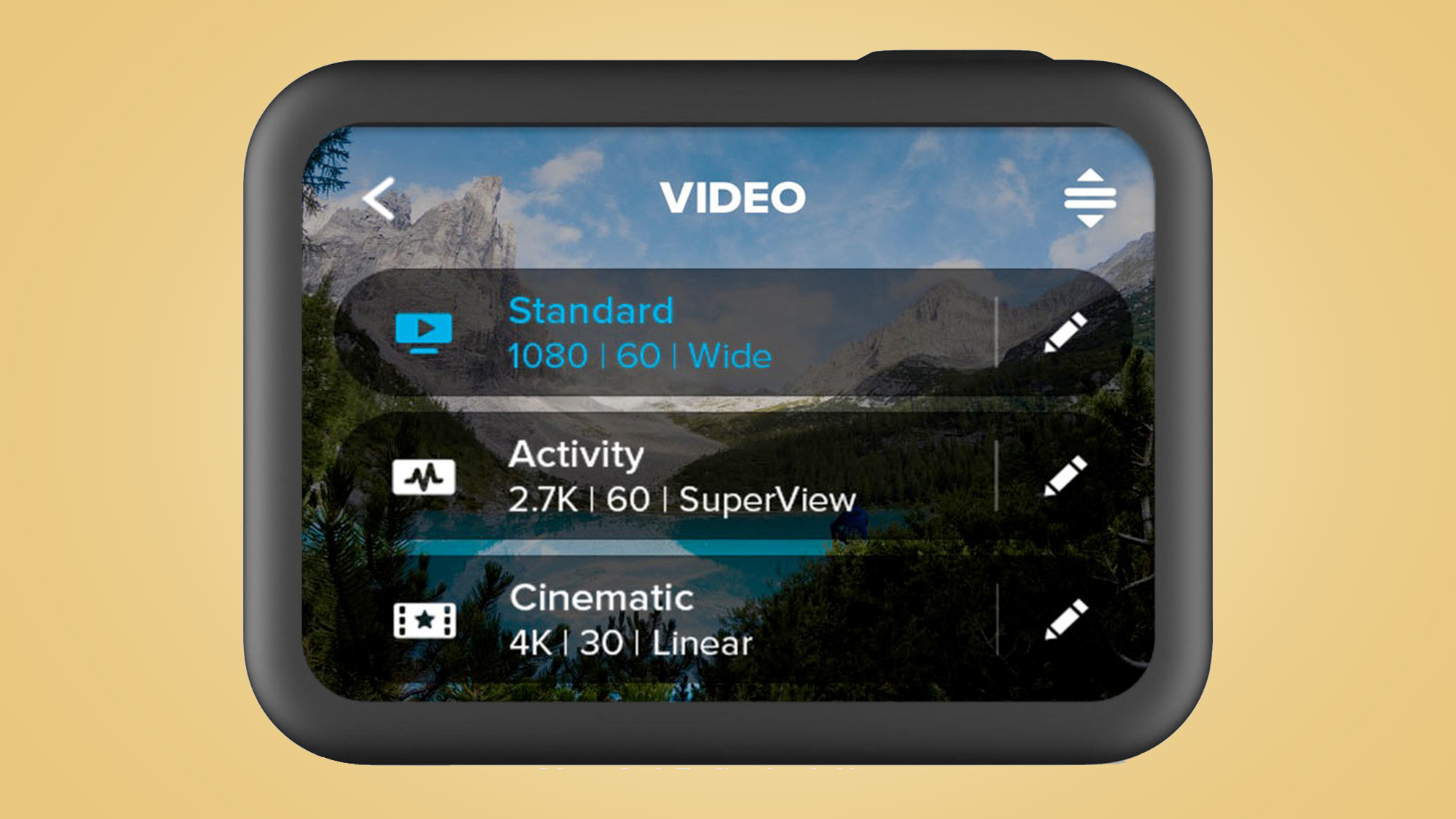 This one is a no-brainer. A 2.55-inch LCD is about the largest possible size to expect. 
Both current GoPro Hero 8 Black display drivers are made by Sitronix. Its step-up model, according to the Sitronix catalogue, would mean a shift to 854×480 pixels, a boost in color to 16.7 million shades and a change in aspect ratio from 3:2 to 16:9. 
This is a much better fit than the current display driver, as the preview image for video in the Hero 8 Black doesn't even fill the already small space provided by the screen. 
5. Color front display with touch shutter
The DJI Osmo Action's front display also makes the GoPro Hero 8 Black seem a little under-specced, particularly for vloggers.
We do get a little stamp-sized screen in the Hero 8 Black, but it is a simple monochrome display that shows the current shooting mode and battery life.
A full-color LCD screen would be too small, and likely the wrong shape, for full image composition. But it would let you check the top and bottom of the frame aren't cutting anyone's head off.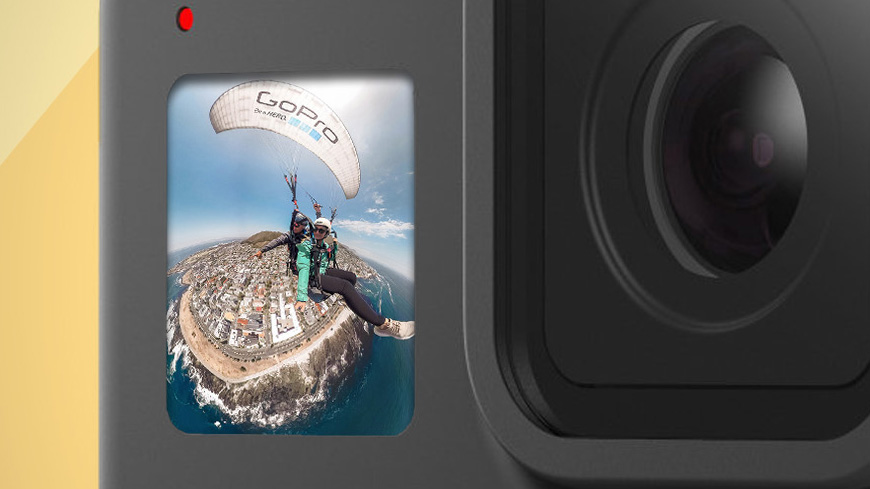 A touchscreen front display would also offer more comfortable capture commands, as the GoPro Hero 8 Black's physical shutter button can feel a bit stiff at times if you don't hold it like a micro compact camera. 
There are problems for GoPro to deal with here. One of the highlights of the current monochrome screen is that it is visible in the brightest sunlight. A normal LCD needs a powerful backlight to compete with a lot of ambient light.
And GoPro would need to be careful with touchscreen implementation to avoid accidental fire-offs, preferably without relegating front touch control to a mode hidden in Settings that few will take the time to find. In this respect, a new front display is something of an outside bet for the Hero 9 Black. 
6. Hypersmooth 3.0 
GoPro cameras already have excellent electronic stabilization. This is where the sensor feed is cropped and the spare image information is used to smooth out movement transitions and eliminate judder. 
However, there's evidence we can expect a lot more in the future. GoPro acquired ReelSteady, which makes a superb motion-smoothing After Effects plug-in, in May 2020.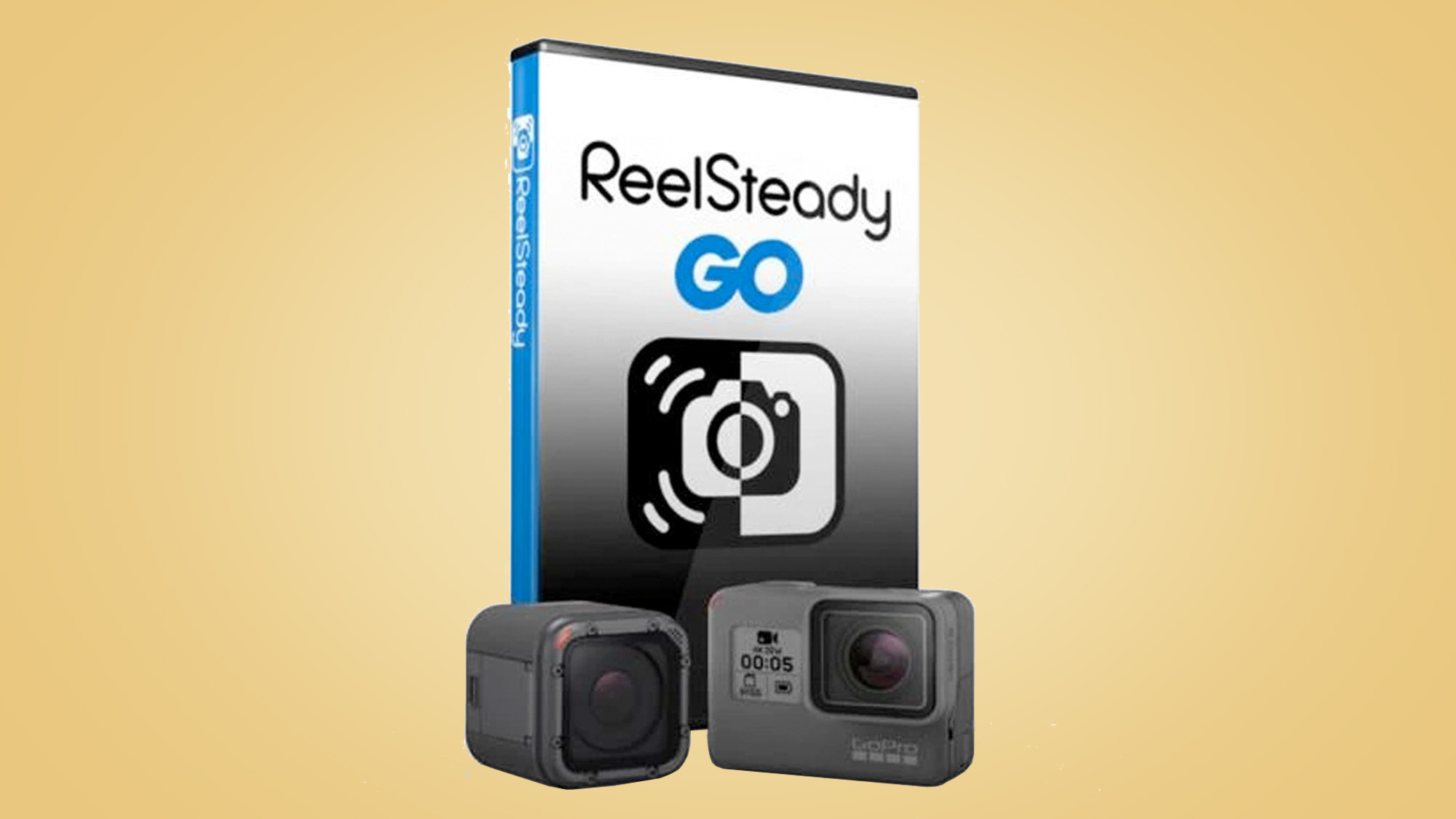 ReelSteady related features are already available in GoPro Labs, a beta program that lets you try out unfinished features as GoPro works on them. Right now the beta firmware "improves rolling shutter correction" to make footage work better when used with the plug-in. But it seems inevitable GoPro will bring ReelSteady's stabilization algorithms into the main GoPro feature set. 
At present you can buy a standalone version of this feature, ReelSteady Go, for $99 (around £80 / AU$140). We expect to see it merge with GoPro's mobile and desktop apps, at some point. GoPro doesn't want to annoy those who bought ReelSteady Go too much, although it could be bundled with GoPro Hero 9 Black, but remain a paid add-on for owners of older models. 
More processor power for the Hero 9 Black should also mean GoPro will be able to get closer to the stabilization offered by the ReelSteady desktop plug-in, only in camera. There's no magic difference between the two, but more advanced algorithms are liable to be more processor intensive, limiting what a camera can feasibly do on-the-fly.
7. Ultra-long timelapses
GoPro Labs also suggests a few other features we may see in the Hero 9 Black, ones that relate to loosening a few restrictions. 
For example, the custom Labs firmware lets you take timelapse videos of up to 50 days, and customize how they operate. You could, for example, set it to only capture during certain times of the day.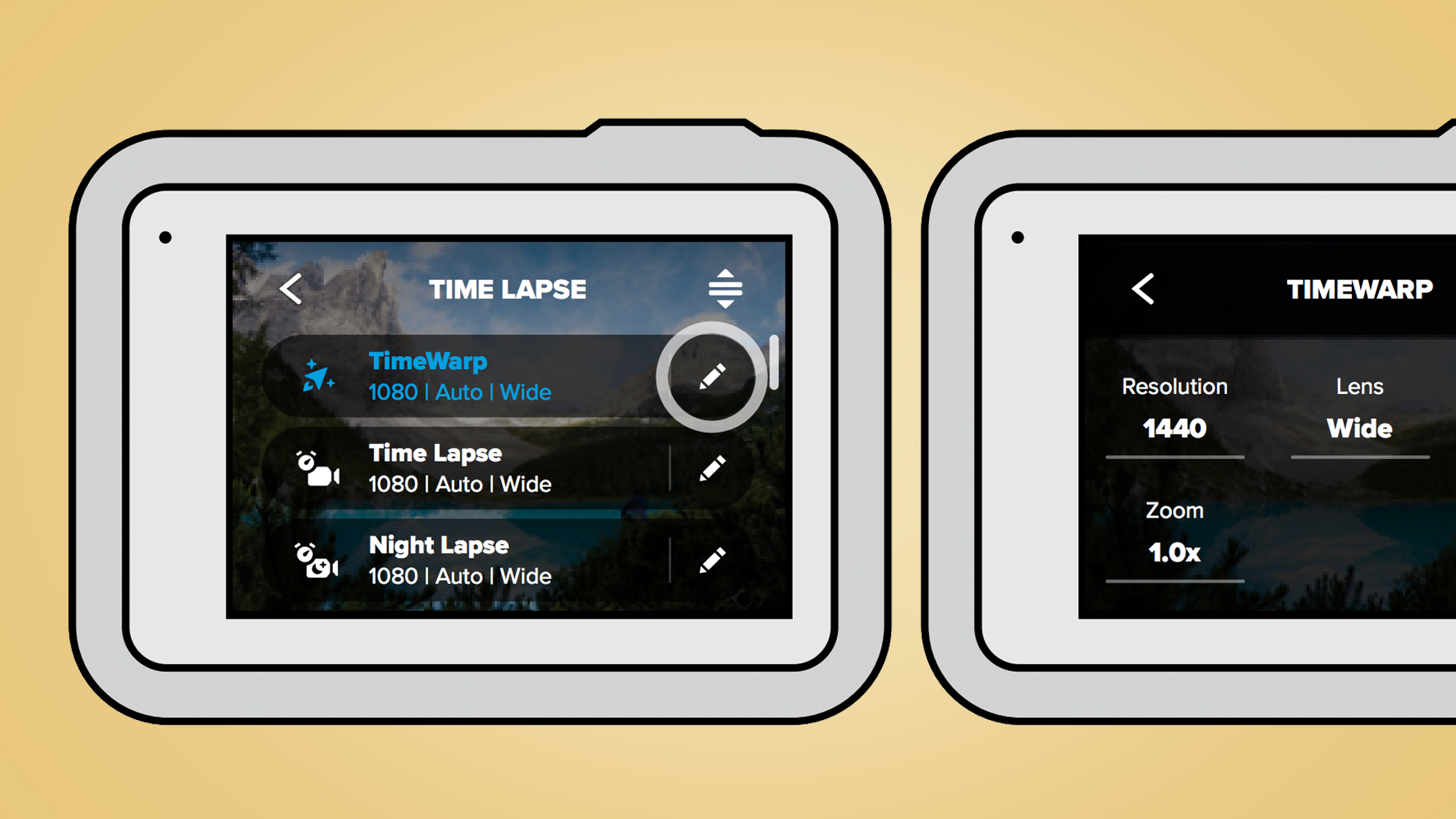 The firmware also lets you schedule shots in the future, like setting a wake-up alarm. Few are likely to need these features, but they could prove incredibly useful for those who really go deep with their GoPro cameras. They would make it much easier to capture certain creative shots, with less prep and editing.
8. Body cam mode
Taking another Labs hint a little further, it's possible we could see a 'body cam' mode added to the Hero 9 Black. 
Several of the prerequisite components are right there in the beta firmware. For example, it raises the maximum video size from 4GB to 12GB, the original being the file size limit of the FAT32 format traditionally used by SD cards.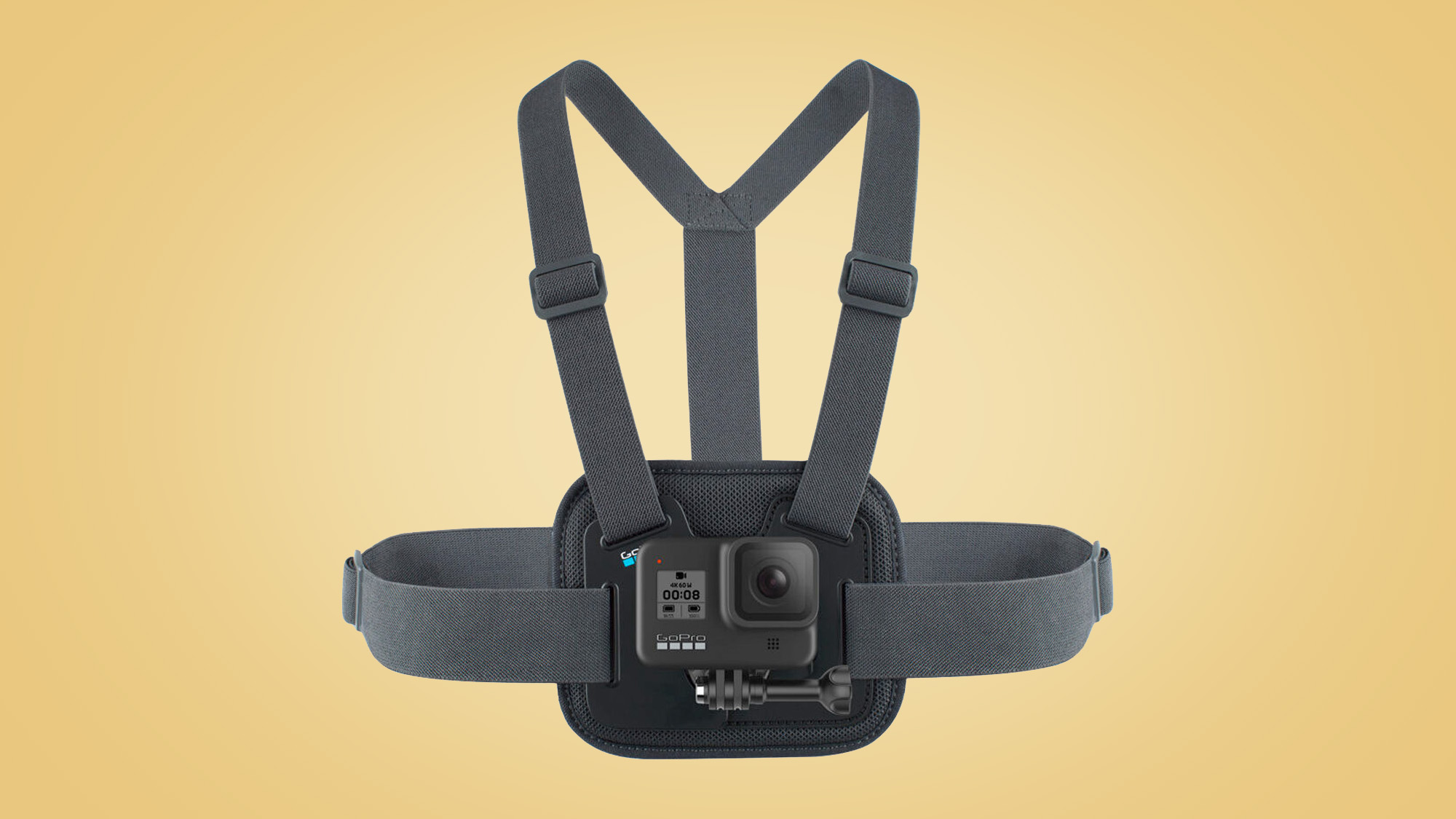 You can add overlays, for things like the time and date, camera name and traveling speed. And capture can be linked to changes in motion or speed. 
GoPros are already used as body and dash cams, but these extra hints of intelligence and customization suggest GoPro is at least considering bundling them into a separate mode. It's something we'd like to see, given the rising popularity of body cameras. 
9. Return of the lens cover
Our final request is a simple one. Many GoPro users didn't like that the Hero 8 Black removed the ability to change its glass lens cover. We'd like it back.
This feature saved a lot of heartbreak in older versions, when you could replace a broken glass lens component for just $19.99 (around £16 / AU$29). It is a tiny outlay in the context of a GoPro's full price.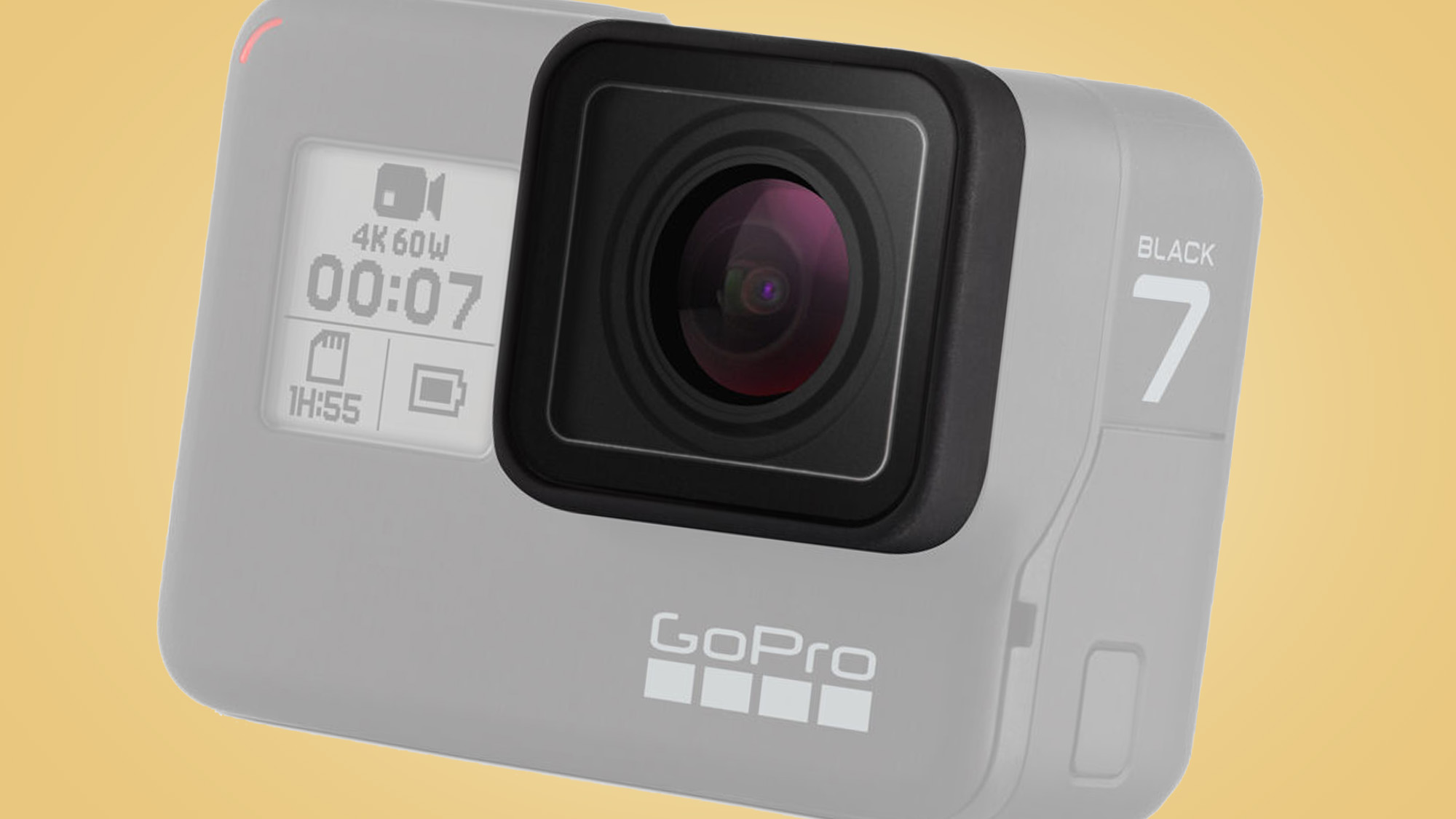 Why did GoPro do it? The cynical would say it means more of us will upgrade more often. Or that GoPro wants us to sign up for GoPro Plus, the $4.99 / £4.99 / AU$5.83 p/month cloud storage and insurance plan that lets you replace a damaged GoPro up to twice a year. 
All of that is probably true, too, but the GoPro Hero 8 Black would likely not have shrunk down as much as it did without ditching the removable lens cover. 
from TechRadar – All the latest technology news
via IFTTT